Here at Takara Kosan, we want to share with you the enchanting world of balloons in all their magical and colorful variety – an irresistable mix of fun and noslagia. Won't you join us in the search for the next great balloon?
What Makes our Balloons Special?
We manufacture all our balloons in Japan and offer a full range of services—from planning and proposals through to production.
Our production technology, fine-tuned over 40 years, enables us to manufacture high-quality balloons at competitive prices.
With our own production facility, we can meet the exact needs of our customers.
Watch this video for how to create a balloon with flowers inside.
Photos
Images showcasing some of the creative uses of our balloons.
Marketing
Marketing tools to help you create great social media content.
Manuals
Instructions on how to use our balloons, color charts for the ibrex™ series, and more.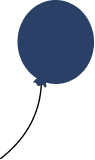 Takara Kosan's 2023 annual catalog featuring our full line-up of everyday balloons.
Check out our new Birthday, Smile balloons from Upright Balloons.
Our Spring 2023 brochure featuring ibrex™ and Upright Balloons for Mother's Day, Easter and Congratulations occasions
Our Valentine's Day 2023 brochure featuring ibrex™, AQUA BALLOON™ and Upright Balloons.
Our Autumn & Winter 2022 brochure featuring ibrex™, AQUA BALLOON™, Upright Balloons and Wrap around Friends for Halloween, Christmas, new year and sprots.
We have partner distributors across the globe. See here to find a distributor near you.
Can't find a distributor near you?
Have a question about one of our products?
Get in touch using the form below.